Overview
Give your guests something different and memorable on your golf day with our range of services. We use the very latest in golf coaching software to offer your guests high tech video swing analysis and gift packs with a definite wow factor.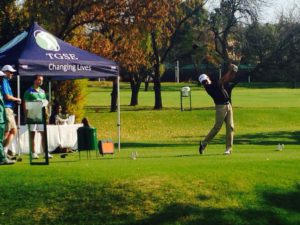 Option 1 : Launch Monitor Analysis On-Course
Give your golf day the X-Factor with TGSE and our state of the art technology. TGSE has both Trackman and Flightscope launch monitors, which give data such as distance hit, direction, club head speed, ball speed, launch angle, angle of approach, face angle, swing path and strike. A launch monitor is set up on a suitable hole and each player's tee shot is analysed and calculated to the exact distance. A team competition can be set up between the fourballs using a points system calculated by the exact position of drives from each member of the fourball, combining distance and direction. This beats the traditional long drive contest and gets those who can't hit enormous distances a chance to contribute and win. Immediate feedback and advice can be given to improve distance and direction. This creates a fun and informative point of interest on the course and provides that x-factor difference for your corporate day.

Cost: R6, 000 per day
Option 2 : Video, Analysis and Gift Pack
Each student is filmed during the round and receives a company-branded take away gift pack product from your golf day:
1. CD Swing Record
2. Swing Analysis (Audio or Visual)
3. Swing Comparisons
4. Company Logo Emblazone
Cost: R125 per player (100+ players) R140 per player (Less than 100 players)
Non-Golfer Golf Day Clinics
No longer should your non-golfing clients or staff feel left out of your corporate golf day. TGSE Corporate Services provides Non-Golfer Introductory Clinics at golf days while the regular participants are on the golf course.

Participants of the 2-hour clinic receive basic instruction on the swing and short game in a fun, relaxed and entertaining manner as well as a beginner's guide to the rules, etiquette and golfing jargon.

Cost: R8, 000 (based on 20 people)
Teambuilding Coaching & Clinics
Entertain your clients or reward your staff with our selection of golf coaching services. Our qualified coaching staff will entertain and educate participants in a friendly and fun environment. For beginner to advanced.
2-Day Teambuilding Experience
This 2-day experience provides the ideal opportunity for novice and active golfers to learn all of the basics needed to be proficient on the golf course. Participants receive coaching on the swing and short game using our fun coaching aids, and also learn all about the rules and etiquette of the sport. The workshop finishes with a 9-hole session on the golf course. This workshop is ideal for team building for your staff or entertaining clients. It offers a unique fun way for those climbing the corporate ladder to get into the game that will improve their networking opportunities.

Cost: R1, 250 per person (Min. 10 people)
Executives Golf Treat
On this half-day experience, a small group of executives are treated to a comprehensive clinic on all aspects of the short game, including; Putting, Chipping, Bunker Play and Specialist Shots. This is followed by a session on the range where the participants have their golf swings analysed using our state of the art technology, including video analysis and launch monitor data providing information on clubhead speed, angle of approach, spin rate, face angle, swing path, launch angle etc.
Amongst other things we will optimise your distance off the tee, guaranteeing to gain you extra metres.
Cost: R6, 000 (2 to 4 executives)
Mobile Golf Academy
Our mobile inflatable golf net allows us to bring the golf coaching experience to you. Our qualified coach staff can provide top quality coaching or fun clinics direct to your offices. The coaches utilise video and computer technology to diagnose swing faults and to help with the learning experience. The mobile academy can also be used at golf days and functions.
Cost: R1, 500 per hour | R6, 000 per day
Contact
Michael Balderstone
082 448 0753
michael@tgse-golf.com